"Like Roxy Music and later-career Joe Jackson, meets Motown at the Church of Our Blessed Back-up singin Sisters of Soul Revival meeting. Smooth as silk, raw as oysters. A soulful rock album of well crafted songs and cutting edge production."  - Glen Starkey (Music, Arts, Entertainment New Times, SLO)
Many thanks to all the great guest artists that lent their talents to the album. Katye Good, Debi Mason, Joyce Marden, Pamela Delgado, Mike Dean, Keenan Michael Jay and Gary Etheredge all were just fantastic to work with and lent their great vocal talents to the project. Their unique voices gave the album that soulful feel that both Chet and Doug were looking for. Scott Radosevich of the Ground Zero Project played piano on Each and Everyday and organ on Sweaty work. The piano playing was superb and the organ rocked. Sweaty Work guitar was compliments of Rocky Blythe of Two Faced Johnny. Blended guitar harmonies and bustin out leads. Dangerous Town had some sexy fluid lead guitar played by Terry Belmore of The Belmores. This particular lead sounds a lot like Alan Holdsworth. Josef Kasporovitz laid down the super cool resonator guitar on Getchaback. Very backwoods style. Marty "Max Mudbone" Henry did a blistering solo on guitar for Down From Tokyo. On Alto Sax for This Side Of Goodbye, Back In My Heart and Freeway Where The Man Goes was Robert Olivera. Wonderful soulful solos and then a manic Frank Zappa type solo for Freeway. Robert's sax solo was followed by a ripping guitar lead by Greg Timmons. Thanks all for the excellent musicianship on the album.
All songs were written and copyrights by Chet Hogoboom and Douglas Tomooka except This Side of Goodbye and Soul Covenant written by Chet Hogoboom, Douglas Tomooka and Theo Martin. Recorded at TNT Recording and Engineered by Doug Tomooka. The HeartThieves album was produced by Doug Tomooka and Chet Hogoboom. Photo by Brad Bisquera.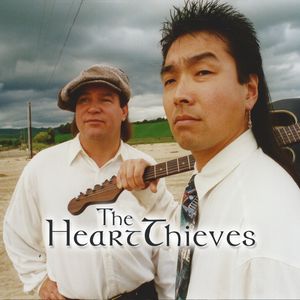 0:00/5:33

0:00/3:43

0:00/5:19

0:00/5:33

0:00/5:01

0:00/5:17

0:00/5:00

0:00/5:07

0:00/5:48